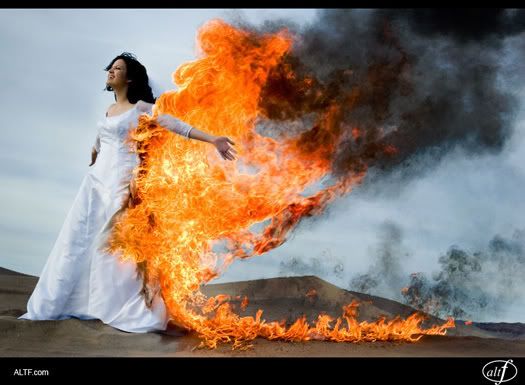 Trash the Dress.
Top image from
altf.com
. Bottom from
marceric.net
.
Location ideas for the Austin area:
Water: Barton Springs (the shallow ledge), Tivoli Building water works, the flat fountain at the domain. Hamilton Falls. Wondering about the refurbished Deep Eddy pavillion and pool?
Nature: I'd love some good mud spots, but can't think of any. Cliffs around Lake Travis might be cool, though.
Dirt: Dad's shop. (lots of grease! I love this idea!!!) Climb on the fender on a truck, "work" on the engine, roll a dolly underneath the dolly, etc.
This just might be the incentive I need to fit back into my wedding dress....